---
This web page begins here
---
PALM BEACH COUNTY MUSIC TEACHERS ASSOCIATION (PBCMTA)
Affiliated with:
MUSIC TEACHERS NATIONAL ASSOCIATION (MTNA)
and:
FLORIDA STATE MUSIC TEACHERS ASSOCIATION, DISTRICT VI (FSMTA)
---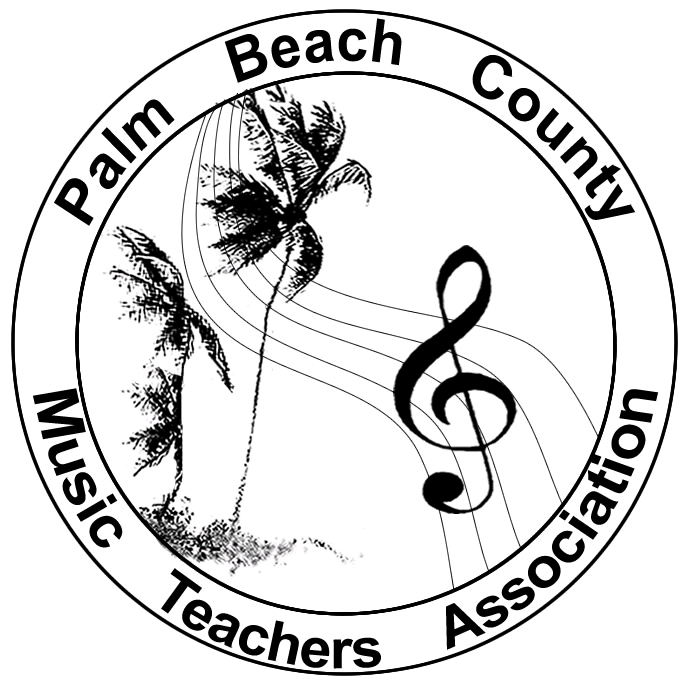 The Palm Beach County Music Teachers Association was founded in 1942. It currently has over 100 members (including the Lynn University Collegiate Chapter) residing primarily in Palm Beach County. Most members teach private music lessons on piano or other instruments in their own studios. Some teach in institutional settings, such as local colleges and universities.
---
Officers for 2009-2011
President: Rhonda Danielson - 561-575-2556
1st VP: Anne Akerson - 561-689-9199
2nd VP (Membership): Genesis Tolisano - 561-340-9950
Treasurer: Patricia Simpson - 561-743-9625
Recording Secretary: Pat Johnson - 561-844-5737
Corresponding Secretary: Suzanne Jarvis - 561-795-8998
Parlimentarian: MaryAnn Rothschild - 772-398-6808
Directors: Joy Beach, Patricia Johnson, Cynthia Kessler, Mary McOwen, MaryAnn Rothschild.
---
Committee Chairpersons, Code of Ethics, Composition Competition, Scholarship Competitions, Music-Thon, Musicales
---
To find a qualified music teacher in your area,
please contact Patricia Johnson at 561-844-5737.
---
CALENDAR OF EVENTS - 2009-2010
2009
2010
---
This web page ends here. (Page by Wally Scherer)
---
Before You Buy a Used Piano
---